Carrera Grand Prix 3 2M2HA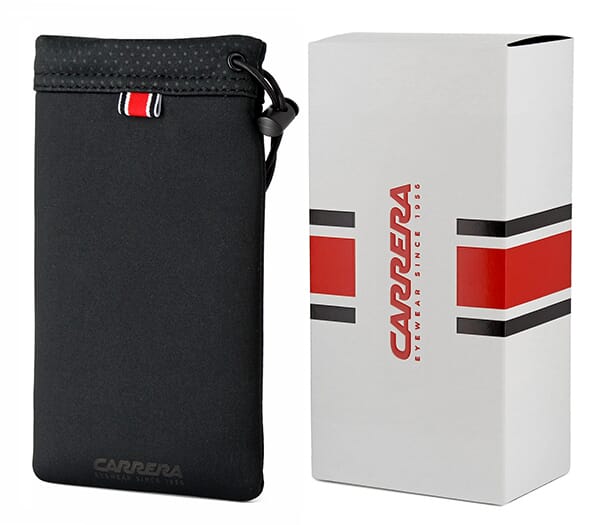 *Cases may occasionally differ.
Model Number:

Grand Prix 3

Frame Colour:

Shiny Black and Gold

Colour Code:

2M2HA

Frame Type:

Full Rim

Frame Shape:

Square

Material:

Acetate

Lens Colour:

Brown Gradient

Polarised:

No

Lens Width:

64mm

Lens Height:

48mm

Bridge Size:

09mm

Temple Length:

135mm
24 Month Warranty with All Frames Purchased.
Details
CARRERA Grand Prix 3 2M2HA

This square Carrera sunglass comes in a shiny black and gold frame with brown gradient lenses.
Satisfy your Carrera fandom with the Carrera Grand Prix 3 2M2HA Sunglasses, an epitome of style and substance for men. The oversized rectangular frames, meticulously sculpted from lightweight injection-molded polyamide, captivate with their dynamic allure. Paired with metal temples, these sunglasses bear the hallmark Flag stripe, a tribute to Carrera's athletic legacy and a nod to retro aesthetics.
Elevate your look with the transparent front, adorned with the iconic 'C' emblem, a symbol of Carrera's enduring identity. The enhanced brow bar adds an extra touch of refinement, ensuring you make a statement wherever you go.
Experience the legacy of Carrera's history with a range of colourways that pay homage to the brand's evolution. These sunglasses offer a window into Carrera's past while embracing modernity. Choose the polarized option for unparalleled visual clarity and eye protection.
Embrace the Carrera Grand Prix 3 Sunglasses – where iconic design meets contemporary and where the spirit of the past intertwines seamlessly with the demands of the present. Elevate your style with eyewear that echoes the legacy of Carrera while projecting your unique persona to the world.
About Carrera:

Carrera Eyewear epitomizes the perfect fusion of sports heritage and Italian style. Catering to an elite crowd, the brand focuses on expressing the distinctive personalities of individuals who prefer understated elegance over the limelight. With a strong emphasis on quality, Carrera consistently drives innovation across all aspects of its designs. Whether in the realm of sports competitions or everyday life, Carrera offers a fresh stylistic approach, reminiscent of ski goggles, which pays homage to its origins and has propelled the brand to become a global industry leader.

A standout feature of Carrera Eyewear lies in its unique and unmistakable design element. The brand's original colours—black, red, and black—are derived from the stripes found in the inaugural edition of the 'Bullet' ski helmet. Inspired by the lines and colours of car races in the early 1970s, these iconic stripes have become Carrera's signature flag detail, distinguishing its eyewear. This simple yet powerful design element serves as a constant reminder of the brand's rich heritage while adding a touch of timeless elegance to every pair of Carrera glasses.

Carrera understands the importance of every detail. The temple tip, typically regarded as a functional component, is elevated to a distinctive feature in Carrera sunglasses and glasses. Meticulously designed around the iconic Carrera logo, the temple tip outlines its profile with precision, resembling a frame that encapsulates perfection. This meticulous attention to detail sets Carrera apart, reflecting the brand's unwavering commitment to craftsmanship and excellence.

The origins of Carrera trace back to 1956, born out of a deep passion for racing. Wilhelm Anger, an Austrian eyewear maker and pioneer, made the momentous decision to rename his company from 'Wilhelm Anger Werker' to 'Carrera,' drawing inspiration from the renowned Carrera Panamericana race. This legendary open road racing event, held in Mexico during the early 1950s, is widely regarded as one of the most perilous car races in the world. Despite the inherent dangers and risks associated with the race, it quickly captivated drivers and car enthusiasts globally, drawn to its adrenaline rush and unwavering passion for pushing boundaries.

Anger's choice to adopt the name 'Carrera' in 1956 was fueled by this very spirit of adventure, passion for racing, and a relentless desire to exceed limits. These defining traits of the Carrera Panamericana race continue to shape the essence of the Carrera brand today. Carrera Eyewear pays homage to its racing heritage, infusing each design with an invigorating blend of elegance, performance, and daring spirit.

Carrera's unwavering dedication to innovation, proudly designed in Italy, alongside its fusion of sports influences with Italian style, makes it the preferred choice for the discerning elite. Embracing Carrera frames allows individuals to exude a unique and iconic style that seamlessly blends heritage with contemporary sophistication. Whether seeking eyewear that complements an active lifestyle or aiming to make a statement, Carrera provides the perfect blend of character, craftsmanship, and unparalleled Italian design.


Your brand new Carrera sunglasses will come including all official accessories and will be covered by our 24 month global warranty.
Authorised Carrera Store.




More Carrera Sunglasses