Hublot H007 120 PLR Polarised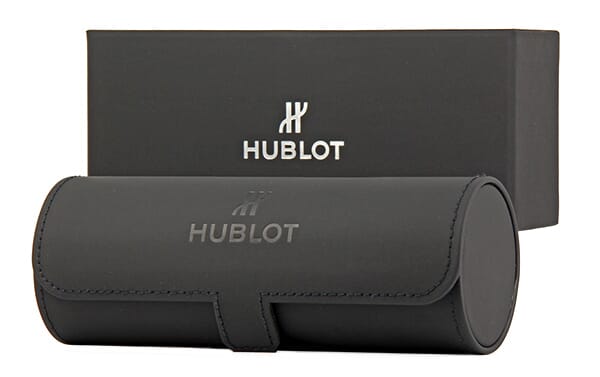 *Cases may occasionally differ.
Model Name:

Tech Shield Sun

Model Number:

H007

Frame Colour:

Gold

Colour Code:

120.PLR

Frame Type:

Full Rim

Frame Shape:

Aviator

Lens Colour:

Grey Polarised

Polarised:

Yes

Lens Width:

136mm

Bridge Size:

0mm

Temple Length:

145mm
24 Month Warranty with All Frames Purchased.
Details
HUBLOT Tech Shield Sun H007 120.PLR

This stylish and imaginative design, from the "Tech" family in the Hublot and Italia Independent 2018 collection, makes use of a combination of different shapes and materials.
The Hublot Tech sunglasses have:
a structure consisting of alternating layers of materials (titanium, lens, titanium)
an innovative design, inspired by prized Hublot watches
high quality, super-protective Zeiss lenses, also available in a polarised version
The contrast between a rounded silhouette and sharp angles give Hublot H007 sunglasses their special character; a quality that lends the wearer a unique style.


This aviator Hublot sunglass comes in a gold frame with grey polarised lenses.

About Hublot:

Hublot Eyewear is an extension of the renowned Swiss luxury watchmaker Hublot, known for its innovative designs, impeccable craftsmanship, and commitment to merging tradition with cutting-edge technology. Hublot glasses and sunglasses reflects the brand's spirit of excellence, offering eyewear that embodies sophistication, performance, and distinctive style.

Hublot's collection of frames exude a fusion of avant-garde aesthetics, high-quality materials, and precision engineering. Each pair of Hublot sunglasses and optical frames showcases a unique blend of luxurious design elements and technical innovations, resulting in eyewear that is both visually striking and functionally superior.

Hublot sunglasses capture attention with their bold and modern designs. The collection features a variety of shapes, including sleek aviators, square frames, and contemporary wraparound styles. These sunglasses often incorporate premium materials such as titanium, carbon fiber, and high-quality acetate, ensuring durability, comfort, and a luxurious feel. The lenses offer excellent optical performance, providing reliable UV protection and enhancing visual clarity.

Hublot optical glasses reflect a sense of refined elegance and attention to detail. The collection features frames in classic and contemporary shapes, tailored to suit different face shapes and personal styles. Hublot's optical frames exhibit meticulous craftsmanship, utilizing top-quality materials and innovative construction techniques to ensure optimal comfort and durability.

Craftsmanship is paramount in Hublot's production process. Each frame is meticulously crafted with precision and care, utilizing state-of-the-art manufacturing techniques and expertise. Hublot's dedication to excellence extends to the smallest details, ensuring that each pair of frames embodies the brand's commitment to quality and luxury.

Hublot Eyewear's collections appeal to individuals who appreciate the fusion of luxury and innovation. The brand's frames have gained recognition among watch enthusiasts, fashion-forward individuals, and those seeking eyewear that combines exceptional design with technical prowess.

With its commitment to excellence, technical innovation, and luxurious design, Hublot Eyewear represents the epitome of Swiss craftsmanship and style. Hublot sunglasses and optical frames offer wearers an opportunity to express their individuality with eyewear that exudes sophistication, precision, and a sense of timeless luxury.

Hublot Eyewear is an extension of the prestigious Swiss watchmaker, offering glasses and sunglasses that embody the brand's spirit of excellence and innovation. With their avant-garde designs, high-quality materials, and meticulous craftsmanship, Hublot's frames showcase the perfect fusion of luxury and technical expertise. Hublot allows wearers to experience the pinnacle of Swiss craftsmanship and elevate their style with eyewear that is as visually stunning as it is technically superior.

Polarised:

Polarised sunglass lenses ensure maximum comfort by blocking reflected light and greatly reducing the amount of glare. Polarised lenses are especially recommended for driving or any outdoor sports.

Your brand new Hublot sunglasses will come including all official accessories and will be covered by a 24 month global warranty.
Authorised Hublot Store.




More Hublot Sunglasses