Lacoste L881S 001 Black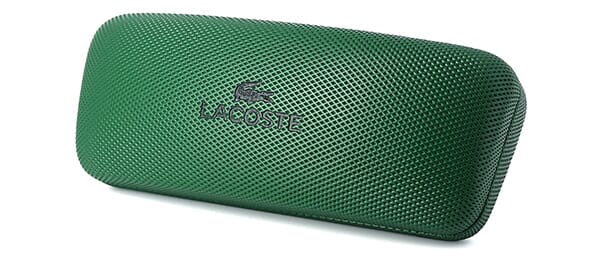 *Cases may occasionally differ.
Model Number:

L881S

Frame Colour:

Black

Colour Code:

001

Frame Type:

Full Rim

Frame Shape:

Round

Lens Colour:

Grey

Polarised:

No

Lens Width:

52mm

Bridge Size:

18mm

Temple Length:

145mm
24 Month Warranty with All Frames Purchased.
Details
LACOSTE L881S 001

This round Lacoste sunglass comes in a black frame with grey lenses.

About Lacoste:

Established in 1933, Lacoste Eyewear embodies the enduring legacy of its founder, René Lacoste, an iconic tennis player known for his elegance and tenacity on the court. Rooted in the spirit of sportsmanship and a commitment to refined aesthetics, Lacoste's designs continue to stand the test of time, appealing to individuals who seek a harmonious blend of functionality and style.

With a storied history spanning nearly a century, Lacoste remains synonymous with the renowned crocodile logo—a symbol of the founder's on-court tenacity and resilience, as well as a representation of the brand's dedication to crafting exceptional eyewear. René Lacoste's innovative spirit and quest for elegance have been the guiding principles behind the collection, shaping frames that complement diverse lifestyles while embodying the brand's sporting heritage.

Lacoste's glasses and sunglasses design philosophy draws inspiration from the worlds of sports and fashion, where form follows function with seamless grace. The frames' aesthetics exude timeless elegance, appealing to both the classic and contemporary sensibilities of wearers. Each design is meticulously crafted, celebrating the brand's sporting heritage while accommodating modern needs and preferences.

To ensure the utmost quality and durability, Lacoste Eyewear relies on a carefully curated selection of materials. Acetate, a lightweight and flexible plant-based plastic, takes centre stage in many of the frames. This versatile material allows for a myriad of colours and patterns, making it ideal for crafting frames that are both expressive and comfortable.

Stainless steel is another favoured material in the collection, offering strength and sturdiness without compromising on elegance. The frames made from stainless steel are known for their sleek profile and ability to withstand daily wear, making them a practical and stylish choice for eyewear aficionados.

The brand's eyewear collection also features frames crafted from a blend of materials, combining the best attributes of each to achieve a harmonious balance of style and performance. These hybrid frames showcase the brand's commitment to innovation, catering to wearers who desire eyewear that effortlessly complements their dynamic lifestyles.

A testament to Lacoste's dedication to visual clarity and protection, the collection's lenses are crafted from high-quality materials. Polycarbonate lenses, known for their impact resistance and lightweight nature, ensure optimal eye safety without compromising on comfort. Moreover, they boast excellent optical clarity, providing wearers with crisp and distortion-free vision.

For those seeking exceptional sun protection, Lacoste sunglasses feature lenses that provide full UV protection. The brand's commitment to eye health is complemented by the incorporation of polarized lenses, which reduce glare and enhance visual clarity, ensuring a pleasurable and safe visual experience under bright conditions.Lacoste's Eyewear Collection is a celebration of timeless elegance and sporting heritage. Drawing inspiration from the worlds of sports and fashion, the collection's designs embody a harmonious fusion of functionality and style. Meticulously crafted from premium materials such as acetate and stainless steel, the frames exude enduring quality and appeal. The lenses' high-quality materials, including polycarbonate and polarized options, prioritize visual clarity and eye protection, offering wearers a comfortable and pleasurable experience. Lacoste glasses continue to transcend trends, inviting wearers to embrace their timeless elegance while paying homage to the brand's storied sporting heritage.

Your brand new Lacoste sunglasses will come including all official accessories and will be covered by a 24 month global warranty.
Authorised Lacoste Store.




More Lacoste Sunglasses