Mulberry SML035 09EF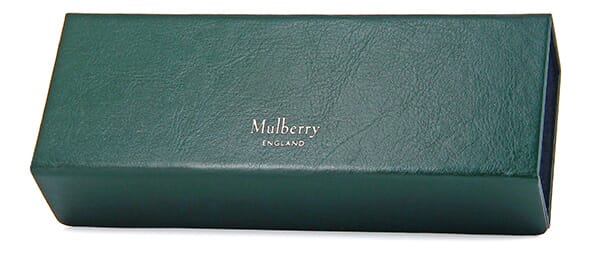 *Cases may occasionally differ.
Model Number:

SML035

Frame Colour:

Black and Rose Opal

Colour Code:

09EF

Frame Type:

Full Rim

Frame Shape:

Cat Eye

Lens Colour:

Grey

Polarised:

No

Lens Width:

52mm

Bridge Size:

17mm

Temple Length:

140mm
24 Month Warranty with All Frames Purchased.
Details
MULBERRY SML035 09EF

This cat eye Mulberry sunglass comes in a black and rose opal frame with grey lenses.

About Mulberry:

The Mulberry Eyewear Collection is a testimony to refined craftsmanship, timeless design, and a commitment to luxurious elegance. Born in 1971, Mulberry has established itself as an iconic brand at the forefront of the fashion industry, with a rich heritage and a reputation for exquisite British style.

The essence of Mulberry Eyewear lies in its ability to seamlessly blend classic sophistication with contemporary aesthetics. Each frame is a masterpiece, meticulously designed to captivate discerning individuals who appreciate the fusion of heritage and modernity. Drawing inspiration from the natural beauty of the British countryside and the vibrant energy of cosmopolitan cities, the collection offers a diverse range of eyewear that exudes understated luxury and effortless style.

The Mulberry sunglasses and glasses collections are defined by meticulous attention to detail in their construction. Every frame is a testament to the brand's unwavering commitment to quality, durability, and comfort. The frames are meticulously crafted using an array of premium materials, ensuring optimal performance and longevity. From lightweight and durable metals to exquisite acetate, the Mulberry Eyewear Collection offers a variety of materials that cater to different tastes and preferences.

The metal frames in the Mulberry Eyewear Collection showcase a harmonious blend of strength and elegance. Crafted from high-quality alloys, these frames epitomize impeccable engineering, offering a balance between durability and style. The precise craftsmanship and intricate detailing result in frames that exude sophistication and confidence, making a lasting impression in any setting.

For those seeking a touch of refinement and opulence, the acetate frames in the Mulberry Eyewear Collection offer unparalleled elegance. The luxurious material, Acetate, derived from renewable sources, allows for intricate designs, vibrant colours, and a polished finish. Each frame is meticulously handcrafted, ensuring exceptional attention to detail and a truly bespoke feel. The acetate frames embody timeless appeal, elevating any outfit with their luxurious presence.

The lenses in both Mulberry sunglasses and Mulberry optical glasses are crafted with the utmost precision to enhance the wearer's visual experience. These lenses offer exceptional clarity, providing optimal visual acuity and protection against harmful UV rays. With advanced technology and rigorous testing, Mulberry ensures that each lens achieves superior optical performance, allowing wearers to see the world with unparalleled sharpness and clarity.

Mulberry Eyewear embraces a philosophy of timeless elegance and celebrates individuality. The brand transcends trends, offering eyewear that resonates with individuals who appreciate refined style, impeccable craftsmanship, and a desire to express their unique identity. With its unwavering commitment to quality and attention to detail, Mulberry Eyewear embodies sophistication, confidence, and effortless grace.

Each frame of Mulberry exudes sophistication and effortless style, capturing the essence of British heritage while embracing the spirit of modernity. With a diverse selection of materials and meticulous attention to detail, Mulberry glasses and sunglasses promise a personalized fit, exceptional comfort, and a visual experience that transcends boundaries.

Your brand new Mulberry sunglasses will come including all official accessories and will be covered by a 24 month global warranty.
Authorised Mulberry Store.




More Mulberry Sunglasses