Porsche Design 8668 A Shield Frames with Grey Lenses
Lens Colours
All our Prescription Sunglass Lenses offer full protection against the harmful effects of UV light. However you may find that a darker tint provides you more comfort in more intense conditions and therefore may wish to choose dark brown, grey or green options which block more light in general.
If you particularly wish to may the lens shown in product image please contact us for further direction.
Polarised Lenses
Polarised sunglasses block glare from light reflecting off flat surfaces better than any other type of sunglass lenses, making them very popular among people who spend a lot of time outdoors, on the road and particularly near water. But sunglasses aren't just for people who love boating, fishing or going to the beach. Anyone who is bothered by glare outdoors can benefit from these advanced sunglass lenses. Polarized sunglasses can be helpful for driving, too, because they reduce direct reflective glare from the hoods of vehicles and light coloured pavements. Sunlight scatters in all directions, but when it strikes flat surfaces, the light that is reflected by the surfaces tends to become polarised — meaning the reflected light beams travel in a more uniform (usually horizontal) direction. This creates an annoying and sometimes dangerous intensity of light that causes glare and reduces visibility. Polarised lenses have a special filter that blocks this type of intense reflected light, reducing glare and discomfort.
In general polarised lenses provide you with a much more relaxing and enhanced quality of vision.
Gradient Lenses
Gradient Sunglass lenses are dark in the top third with a gradual change in tint lightening towards the bottom. They were originally designed for pilots who require a full tint against the very bright above cloud sunlight however a lighter tint to read their instruments and dials. Drivers also appreciate the way in which gradient lenses allow them to read their dashboard. Those reading in sunlight may also use gradient lenses as the entire lens is fully protective against UV light.
Dark Gradient Brown
Dark Gradient Grey
Dark Gradient Green
Anti Glare Back Surface
Anti Glare / Anti Reflection coatings on your sunglass lenses stops bright sunlight from bouncing off the back surface of your lenses and into your eyes. This distracting glare can cause a reduction in the quality of vision and comfort provided by your sunglasses. Premium sunglass brands now included this option on standard on their top of the range non-prescription lenses. Therefore it is now becoming more common for sunglass wearers to request the same technology in prescription form.The decision to add this option to your prescription sunglasses is the ultimate finishing touch and provides you with the ultimate lens package.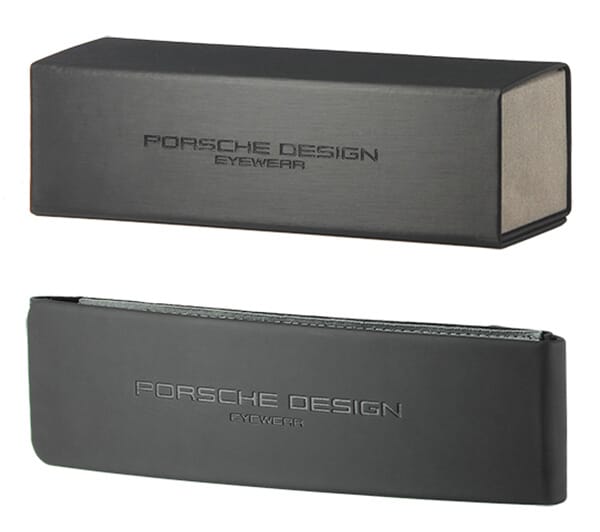 *Cases may occasionally differ.
Model Number:

P8668

Frame Colour:

Black

Colour Code:

A

Frame Type:

Full Rim

Frame Shape:

Shield

Lens Colour:

Grey

Polarised:

No

Lens Width:

135mm

Lens Height:

49mm

Bridge Size:

0mm

Temple Length:

125mm
Details

PORSCHE DESIGN 8668 A

More than just eyewear, the Porsche Design 8668's are a masterful tribute to high-performance design. The full-rim shield sunglasses present a powerful black acetate frame and grey lenses.
 
The 8668 glasses are designed with sport in mind offering optimal flexibility and productivity combining true Porsche innovation and technology. The shield frame is meticulously crafted from high-tech polyamide resulting in an ultra-lightweight comfortable fit. This motorsport-inspired design intakes air at the temples providing impeccably clear vision meanwhile providing the wearer with cooling ventilation.
 
The acetate frame is incredibly lightweight and flexible material making the 8668's the perfect sunglasses to take on the go.
 
Porsche Design's eyewear is a creation by the renowned creator of the Porsche 911; Ferdinand Porsche. Ferdinand Porsche's design philosophy was, and remains, optimize function. The exclusive lifestyle brand reduces the form of their eyewear right down to the core essentials while striving for innovation. This can be seen through the immense quality of the P8668's which uphold the Porsche brand's timeless perfection meanwhile providing the ultimate in durability and longevity.