Anna-Karin Karlsson Phat Cat Black Crystal Limited 1st Edition
Lens Colours
All our Prescription Sunglass Lenses offer full protection against the harmful effects of UV light. However you may find that a darker tint provides you more comfort in more intense conditions and therefore may wish to choose dark brown, grey or green options which block more light in general.
If you particularly wish to may the lens shown in product image please contact us for further direction.
Polarised Lenses
Polarised sunglasses block glare from light reflecting off flat surfaces better than any other type of sunglass lenses, making them very popular among people who spend a lot of time outdoors, on the road and particularly near water. But sunglasses aren't just for people who love boating, fishing or going to the beach. Anyone who is bothered by glare outdoors can benefit from these advanced sunglass lenses. Polarized sunglasses can be helpful for driving, too, because they reduce direct reflective glare from the hoods of vehicles and light coloured pavements. Sunlight scatters in all directions, but when it strikes flat surfaces, the light that is reflected by the surfaces tends to become polarised — meaning the reflected light beams travel in a more uniform (usually horizontal) direction. This creates an annoying and sometimes dangerous intensity of light that causes glare and reduces visibility. Polarised lenses have a special filter that blocks this type of intense reflected light, reducing glare and discomfort.
In general polarised lenses provide you with a much more relaxing and enhanced quality of vision.
Gradient Lenses
Gradient Sunglass lenses are dark in the top third with a gradual change in tint lightening towards the bottom. They were originally designed for pilots who require a full tint against the very bright above cloud sunlight however a lighter tint to read their instruments and dials. Drivers also appreciate the way in which gradient lenses allow them to read their dashboard. Those reading in sunlight may also use gradient lenses as the entire lens is fully protective against UV light.
Dark Gradient Brown
Dark Gradient Grey
Dark Gradient Green
Anti Glare Back Surface
Anti Glare / Anti Reflection coatings on your sunglass lenses stops bright sunlight from bouncing off the back surface of your lenses and into your eyes. This distracting glare can cause a reduction in the quality of vision and comfort provided by your sunglasses. Premium sunglass brands now included this option on standard on their top of the range non-prescription lenses. Therefore it is now becoming more common for sunglass wearers to request the same technology in prescription form.The decision to add this option to your prescription sunglasses is the ultimate finishing touch and provides you with the ultimate lens package.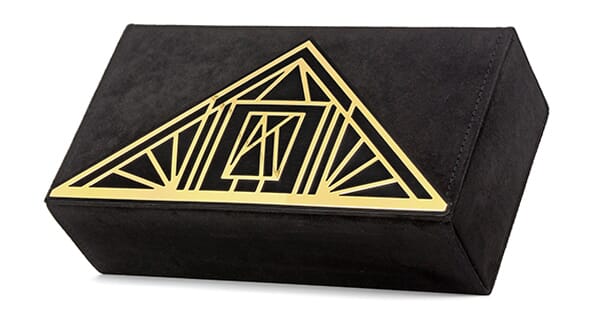 Model Name:

Limited Edition 1

Model Number:

Phat Cat

Frame Colour:

Black Crystal

Colour Code:

Black Crystal

Frame Type:

Full Rim

Frame Shape:

Square

Lens Colour:

Blue Gradient Zeiss Lenses

Polarised:

No

Lens Width:

54mm

Bridge Size:

23mm

Temple Length:

142mm
Details
The 'Into the Night' Collection - taking you from sunlight to starry skies; from day play to night games; from dusk to dawn. Featuring crystal-encrusted designs fitted with lightweight and exquisite Zeiss lenses, the collection is designed to be worn throughout the day and well into the night.

The Phat Cat square sunglasses embody the spirit of the collection, beautifully juxtaposing the sharp lines of a classic mask style square frame with the elegance and high drama of crystal embellishment. The frame is crafted from black acetate, fitted with grey gradient Zeiss lenses. The entire front of the frame is adorned by a myriad of tiny black, glittering, custom-made Swarovski crystals; faceted in the round brilliant diamond cut style for maximum effect. Each temple also bears the iconic AKK logo in repeating pattern, standing out prominently in 24 carat yellow gold plating. A true statement piece in the pursuit of beauty.

Anna-Karin Karlsson collections are created for an exclusive audience, and designs are produced in only 20-150 pieces worldwide. This Limited First Edition frame numbers 10 of only 75 created, and comes with a hand-numbered certificate of authenticity.

Anna-Karin Karlsson is known as the world's leading brand for luxury eyewear. The company is based in Sweden, and the designs are sold in more than 50 countries worldwide. In just a few short years, the Anna-Karin Karlsson brand has produced instant classics, while at the same time pushing the boundaries of haute couture eyewear. The name is now synonymous with lavish glamour, contrasting sharp lines and strong accents with an ultra-feminine aesthetic. The designs are executed only through the highest standards of hand-crafting and exclusive materials. Combining avant-garde design with extravagant materials and immaculate execution, each frame is a work of art.

For A Life Less Ordinary.