Oakley Socket 5.5 OX3218 03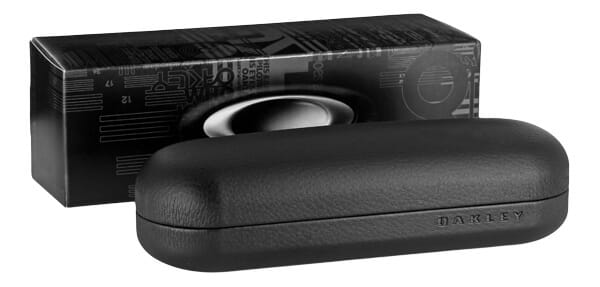 *Cases may occasionally differ.
Model Name:

Socket 5.5

Model Number:

OX3218

Frame Colour:

Matte Midnight

Colour Code:

321803

Frame Type:

Semi Rimless

Frame Shape:

Rectangle

Material:

Metal

Lens Width:

54mm

Bridge Size:

18mm

Temple Length:

138mm
24 Month Warranty with All Frames Purchased.
Details
OAKLEY Socket 5.5 OX3218 321803

This rectangular Oakley optical comes in a matte midnight frame.

About Oakley:

Oakley is a globally recognized eyewear brand known for its innovative designs, cutting-edge technology, and exceptional performance. Established in 1975 by Jim Jannard, Oakley has become synonymous with high-quality eyewear and gear for athletes and outdoor enthusiasts.

Oakley's commitment to excellence is evident in its relentless pursuit of optical precision and performance. The brand has revolutionized the industry with its advanced lens technologies, ergonomic designs, and unwavering dedication to meeting the demands of athletes in various sports disciplines.

One of Oakley's most notable achievements is its development of the High Definition Optics® (HDO®) technology. This groundbreaking innovation ensures crystal-clear vision, precise optical alignment, and enhanced impact resistance. Oakley lenses are designed to provide maximum clarity and sharpness, minimizing distortion and optimizing peripheral vision.

Oakley Eyewear is as diverse as the athletes who wear them. The brand offers a wide range of sunglasses and glasses designed for different activities, including cycling, running, golfing, snowboarding, and more. Each model is engineered to deliver optimal performance, durability, and protection in specific sporting environments.

Oakley sunglasses feature lightweight and durable frames crafted from materials like O-Matter™, a stress-resistant and flexible material. The frames are designed to provide a secure fit, even during intense physical activities. Oakley sunglasses often incorporate wraparound designs and interchangeable lenses, allowing wearers to adapt to changing light conditions and achieve optimal visual clarity.

Oakley glasses offer a combination of style and functionality for everyday wear. The optical frames showcase sleek designs and sophisticated aesthetics while maintaining the brand's commitment to durability and performance. Oakley's glasses are available in various shapes and sizes, catering to different face shapes and style preferences.

Beyond its technical expertise, Oakley has also made significant strides in fashion-forward designs. The brand collaborates with renowned athletes and designers to create limited-edition collections that blend sports performance with contemporary style. Oakley's eyewear often features bold colors, sleek lines, and striking details, appealing to individuals seeking both function and fashion.

Oakley's dedication to quality extends beyond its eyewear. The brand offers a range of accessories, including cases, lens cleaning kits, and sport-specific gear, to enhance the overall experience for its customers.

In addition to its commitment to performance, Oakley also emphasizes sustainability and environmental responsibility. The brand actively seeks to reduce its ecological footprint through eco-friendly manufacturing processes and the use of recycled materials.

Oakley has solidified its position as a global leader in performance eyewear, trusted by athletes and outdoor enthusiasts around the world. With its focus on technological innovation, superior optics, and stylish designs, Oakley continues to push boundaries and redefine what is possible in the realm of eyewear.

This comprehensive description highlights Oakley Eyewear's reputation as an eyewear brand renowned for its innovation, advanced lens technologies, and commitment to performance. Whether in the realm of sports or everyday life, Oakley provides wearers with eyewear that combines unrivaled functionality, precision optics, and cutting-edge style.

Prescription Lenses:

PRETAVOIR are specialists at providing optical prescriptions. We offer a range of lens options to suit your vision, lifestyle and budget.
For more information on selecting your lenses please visit our information page here or you can contact us, our friendly team are always ready to help you find your perfect lens.

Your brand new Oakley glasses will come including all official accessories and will be covered by a 24 month global warranty.
Authorised Oakley Store.




More Oakley Glasses
Enhance your clarity
CRIZAL SAPPHIRE HR
Transparency that stands the test of life.
Absolute transparency
Reducing visible light reflections at 360° all around you for a vision relieved from light parasitics.
Durable resistance
Enduring scratch resistance against everyday handling such as wiping or dropping your eyeglasses.
Easiness-to-clean
Repelling water & dust, resisting to smudges for a lens that stays as clear as the first day you bought them¹
UV protection
Offering the most comprehensive daily protection against the invisible and often irreversible dangers of UV reflection.
Our latest innovation in anti-reflective coating
Every day, your eyes witness the frantic rhythm of your daily routine and make you discover what life is about. Daily aggressions can alter eyeglass wearers vision clarity and vision comfort.
Crizal® Sapphire™ HR, the best of Crizal coatings that provides transparency, durability and ease of care of the lenses.
How Crizal Sapphire HR withstands extreme testings
THE CRIZAL LIFEPROOF MULTI-TEST
Essilor has developed a thorough protocol to reinforce its testing methods, the Crizal Lifeproof multi-test. The performance of Crizal® Sapphire™ HR has been assessed under all conditions:
Anti-reflective efficiency: best-in-class transparency perceived by experts through a sensory analysis2.
Scratch resistance: superior scratch resistance vs previous generation after 12 months of wear in real-life3.
Easiness-to-clean: easy-to-clean after extensive smudging and 20,000 cleaning rubs4.
REDUCING REFLECTIONS
Whether we are at home, at work or shopping, we are exposed to multiple sources of light. Coming from all angles, light reaches your lenses and creates reflections. These reflections can be a source of discomfort and impact your everyday life by making us adopt new behaviours, consciously and subconsciously. We adjust our heads, changing our posture or even remove our spectacle lenses just reduce the visual impacts of reflections. Crizal Sapphire HR reduces reflections regardless of where the light comes from. By reducing the amount of reflections your vision will be purer with more vivid images and improved lens aesthetics when others look at you. Transparency has never been so visible.(4)
HIGHEST LEVEL OF UV PROTECTION FOR A CLEAR LENS
It has been found that UV can have a cumulative effect on your eyes contributing to premature eye ageing and is associated as a risk factor of cataracts.(5) Crizal Sapphire HR filters UV rays preventing them from passing through the front of your lens and preventing them from reflecting off of the back of your lens into your eye. Thanks to this unique UV protection enhancement Crizal Sapphire HR has an E-SPF rating of 35, the highest E-SPF index on clear lenses for optimal UV protection.(6)
ENHANCE YOUR LENSES IN EVERY WAY
Crizal Sapphire HR ensures your spectacle lenses are resistant and repellent from scratches, smudges, water droplets and dust particles. Meaning - your lenses are incredibly protected, clear and easy to clean. Which comes in handy when facing everyday activities.