Bottega Veneta BV1071O 004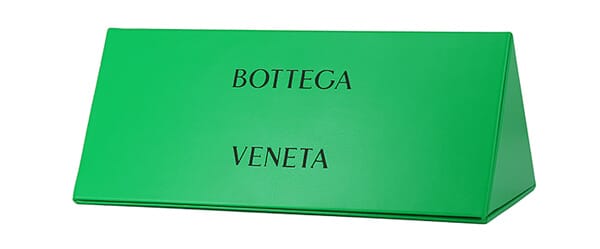 *Cases may occasionally differ.
Model Number:

BV1071O

Frame Colour:

Blue and Silver

Colour Code:

004

Frame Type:

Full Rim

Frame Shape:

Square

Lens Width:

56mm

Bridge Size:

15mm

Temple Length:

145mm
24 Month Warranty with All Frames Purchased.
Details
BOTTEGA VENETA BV1071O 004

This square Bottega Veneta optical comes in a blue and silver frame.

About Bottega Veneta:

Since its establishment in the Veneto region of Italy in 1966, Bottega Veneta has been synonymous with a new standard of luxury. Rooted in the rich traditions of Italian master craftsmen, the brand's ethos revolves around discretion, quality, and unsurpassed craftsmanship. Each piece created by Bottega Veneta's artisans is a testament to their extreme attention to detail, high precision, and relentless pursuit of perfection. Housed within an 18th-century villa in Montebello Vicentino, the brand's atelier serves as a sanctuary where leather craftsmanship is elevated to the level of art.

Originally recognized as a leather goods house, Bottega Veneta has evolved into a complete lifestyle brand, offering a range of products that extends beyond leather goods. From ready-to-wear clothing and exquisite jewellery to eyewear, furniture, and more, the brand caters to the diverse needs and desires of its discerning clientele.

Bottega Veneta's sunglasses and optical frames for both women and men epitomize timelessness, elegance, and authenticity. The collection showcases a distinctive design language that remains consistent throughout the seasons, drawing inspiration from the brand's iconic leather weave motif known as the intrecciato. This intricate pattern serves as a hallmark of Bottega Veneta's artistry and craftsmanship.

Crafted with meticulous care, the Bottega Veneta Eyewear Collection is brought to life through a combination of traditional production methods and modern technologies. Handcrafted in Italy and Japan, these sunglasses and optical frames epitomize uncompromising quality and lasting beauty. The artisans behind each piece skilfully blend their expertise with contemporary manufacturing techniques, resulting in outstanding craftsmanship and unique details that set Bottega Veneta frames apart.

Every pair of Bottega Veneta glasses and sunglasses are a testament to the brand's commitment to excellence. From the selection of the finest materials to the rigorous quality control processes, every step of the manufacturing journey is undertaken with utmost care. The brand's artisans employ their hands, eyes, and hearts to bring each design to life, ensuring that every detail is perfect.

Bottega Veneta's unwavering dedication to craftsmanship extends beyond its products. The brand actively supports the preservation of traditional artisanal techniques and invests in the training of new generations of craftsmen. By nurturing and celebrating the heritage of Italian craftsmanship, Bottega Veneta contributes to the longevity of these invaluable skills.

As a result of its meticulous approach, Bottega Veneta has earned a place as an iconic luxury brand, renowned for its discreet elegance and unparalleled quality. With its deep-rooted commitment to craftsmanship and its constant pursuit of perfection, the brand continues to captivate the hearts of discerning individuals who appreciate timeless sophistication and enduring beauty.

Bottega Veneta Eyewear stands as a testament to the brand's unwavering commitment to exceptional craftsmanship and timeless elegance. From the meticulous handcrafting process to the incorporation of iconic design elements, each pair of Bottega Veneta glasses represents a fusion of artistry and quality. With its distinctive style and enduring appeal, Bottega Veneta continues to set the standard for luxury in the world of fashion.

Prescription Lenses:

PRETAVOIR are specialists at providing optical prescriptions. We offer a range of lens options to suit your vision, lifestyle and budget.
For more information on selecting your lenses please visit our information page here or you can contact us, our friendly team are always ready to help you find your perfect lens.

Your brand new Bottega Veneta glasses will come including all official accessories and will be covered by a 24 month global warranty.

Authorised Bottega Veneta Store.




More Bottega Veneta Glasses
Enhance your clarity
CRIZAL SAPPHIRE HR
Transparency that stands the test of life.
Absolute transparency
Reducing visible light reflections at 360° all around you for a vision relieved from light parasitics.
Durable resistance
Enduring scratch resistance against everyday handling such as wiping or dropping your eyeglasses.
Easiness-to-clean
Repelling water & dust, resisting to smudges for a lens that stays as clear as the first day you bought them¹
UV protection
Offering the most comprehensive daily protection against the invisible and often irreversible dangers of UV reflection.
Our latest innovation in anti-reflective coating
Every day, your eyes witness the frantic rhythm of your daily routine and make you discover what life is about. Daily aggressions can alter eyeglass wearers vision clarity and vision comfort.
Crizal® Sapphire™ HR, the best of Crizal coatings that provides transparency, durability and ease of care of the lenses.
How Crizal Sapphire HR withstands extreme testings
THE CRIZAL LIFEPROOF MULTI-TEST
Essilor has developed a thorough protocol to reinforce its testing methods, the Crizal Lifeproof multi-test. The performance of Crizal® Sapphire™ HR has been assessed under all conditions:
Anti-reflective efficiency: best-in-class transparency perceived by experts through a sensory analysis2.
Scratch resistance: superior scratch resistance vs previous generation after 12 months of wear in real-life3.
Easiness-to-clean: easy-to-clean after extensive smudging and 20,000 cleaning rubs4.
REDUCING REFLECTIONS
Whether we are at home, at work or shopping, we are exposed to multiple sources of light. Coming from all angles, light reaches your lenses and creates reflections. These reflections can be a source of discomfort and impact your everyday life by making us adopt new behaviours, consciously and subconsciously. We adjust our heads, changing our posture or even remove our spectacle lenses just reduce the visual impacts of reflections. Crizal Sapphire HR reduces reflections regardless of where the light comes from. By reducing the amount of reflections your vision will be purer with more vivid images and improved lens aesthetics when others look at you. Transparency has never been so visible.(4)
HIGHEST LEVEL OF UV PROTECTION FOR A CLEAR LENS
It has been found that UV can have a cumulative effect on your eyes contributing to premature eye ageing and is associated as a risk factor of cataracts.(5) Crizal Sapphire HR filters UV rays preventing them from passing through the front of your lens and preventing them from reflecting off of the back of your lens into your eye. Thanks to this unique UV protection enhancement Crizal Sapphire HR has an E-SPF rating of 35, the highest E-SPF index on clear lenses for optimal UV protection.(6)
ENHANCE YOUR LENSES IN EVERY WAY
Crizal Sapphire HR ensures your spectacle lenses are resistant and repellent from scratches, smudges, water droplets and dust particles. Meaning - your lenses are incredibly protected, clear and easy to clean. Which comes in handy when facing everyday activities.