Porsche Design 8928 C Palladium Frame With Blue Interchangeable Lenses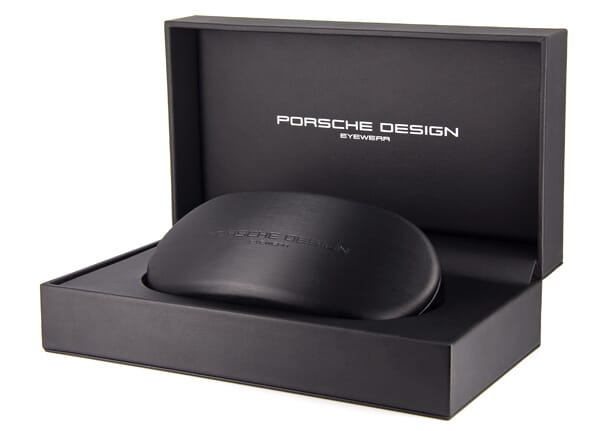 *Cases may occasionally differ.
Model Number:

P8928

Frame Colour:

Palladium

Colour Code:

C

Frame Type:

Full Rim

Frame Shape:

Square

Material:

Metal

Lens Colour:

Includes Light Blue with Silver Flash Mirror and Dark Grey Interchangeable Lenses

Polarised:

No

Lens Width:

67mm

Bridge Size:

10mm

Temple Length:

140mm
24 Month Warranty with All Frames Purchased.
Details
PORSCHE DESIGN 8928 C
Porsche Design 8928 are inspired by the P'8478 Aviator Sunglasses, the world's first sunglasses with a replaceable lens mechanism and the first eyewear frame designed by Professor Ferdinand Porsche. The Porsche Design 8928 in the modern squared aviator look is perfect complement to the classic P'8478.

Created and continuously inspired by the Porsche 911; Porsche Design's philosophy is optimize function. The exclusive lifestyle brand reduces the form of their eyewear right down to the core essentials while striving for innovation. This can be seen through the quick release square shaped lenses that can be replaced to keep you prepared for various light conditions. The 8928 C's come with Light Blue with Silver Flash Mirror and Dark Grey Interchangeable lenses.
The 8928 C's are manufactured with a Palladium Frame providing you with the Porsche brand's timeless perfection meanwhile providing you with the ultimate in durability and longevity. Constructed in Japan from lightweight titanium each pair of Porsche Design Sunglasses are impressively stylish for any occasion.
About Porsche Design:
Porsche Design, a name synonymous with innovation, sophistication, and luxury, established its eyewear collection in 1978 with the same principles that have defined its automotive legacy. Founded by Professor Ferdinand Alexander Porsche, the brand set out to create eyewear that not only exemplifies precision engineering but also showcases a timeless elegance that transcends trends.
At the heart of Porsche Design's eyewear philosophy lies a commitment to craftsmanship, technological advancement, and a minimalist design approach. Inspired by the sleek lines and aerodynamic shapes of Porsche sports cars, each frame is a testament to the brand's dedication to superior quality and attention to detail.
Materials used in the construction of Porsche Design's sunglasses and glasses embody the brand's pursuit of excellence and perfection. The frames frequently incorporate high-grade metals, such as titanium and stainless steel, renowned for their durability and lightweight characteristics. These premium materials ensure that the eyewear remains comfortable to wear while exuding a sense of understated luxury.
Porsche Design's eyewear is characterized by its clean, contemporary aesthetics, reflective of the brand's commitment to timeless elegance. The frames often feature streamlined shapes, sharp angles, and distinctive details that pay homage to Porsche's iconic automotive design language.
A hallmark of Porsche Design eyewear is its use of advanced materials and technologies. The brand's innovative use of polyamide, a lightweight and flexible synthetic material, further enhances the frames' durability and comfort. Additionally, many models boast a patented hinge system, showcasing the brand's engineering prowess and attention to functional excellence.
The design philosophy behind Porsche Design's collection revolves around precision engineering and uncompromising style. Each frame is meticulously crafted to provide a perfect fit, ensuring that wearers experience unparalleled comfort while embracing a look that exudes confidence and sophistication.
The lenses in Porsche Design's eyewear prioritize visual clarity and protection. High-quality lens materials, including polycarbonate and crystal, offer wearers sharp and distortion-free vision. Moreover, these lenses provide effective UV protection, ensuring optimal eye health during outdoor activities.
Porsche Design's glasses and sunglasses designs cater to individuals who seek eyewear that reflects their discerning taste and appreciation for refined luxury. From classic aviators that evoke a sense of timeless elegance to contemporary rectangular frames that embrace modernity, the collection offers frames to complement every unique personality and style.
Beyond its exceptional design and materials, Porsche Design's collection embodies a philosophy of constant innovation and sophistication. The brand continues to push the boundaries of eyewear design, exploring new materials, technologies, and collaborations to elevate the eyewear experience to new heights.
Porsche Design's eyewear collection captures the essence of luxury and sophistication, inviting wearers to embrace a world of understated elegance and precision engineering. As the brand continues to exemplify innovation and timeless style, the eyewear collection remains an emblem of excellence and refinement, adorning wearers with frames that exude confidence and sophistication.