Gucci GG1082O 002 - As Seen On Olivia Attwood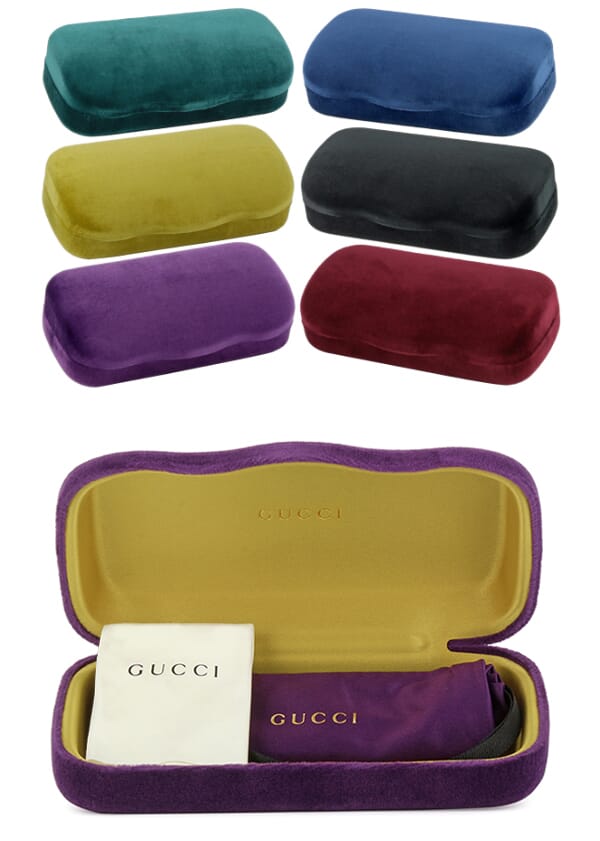 *Cases may occasionally differ.
Model Number:

GG1082O

Frame Colour:

Shiny Dark Havana

Colour Code:

002

Frame Type:

Full Rim

Frame Shape:

Cat Eye

Material:

Acetate

Lens Width:

50mm

Lens Height:

44mm

Bridge Size:

21mm

Temple Length:

145mm
24 Month Warranty with All Frames Purchased.
Details
GUCCI GG1082O 002

This cat eye Gucci optical comes in a shiny dark havana frame.

As seen on Olivia Attwood in ITV's 'Getting Filthy Rich'. 

About Gucci:

Gucci, established in Florence in 1921, has firmly established itself as a leading luxury fashion brand on a global scale. With a history spanning nearly a century, Gucci continually pushes the boundaries of luxury fashion, propelled by its contemporary vision. This unique perspective has catapulted the brand into the ranks of the most influential fashion houses in the world, celebrated for its eclectic, romantic, and distinctly modern approach that redefines luxury for the 21st century.

Gucci Eyewear, distinguished by its globally recognized double G logo, effortlessly brings together luxury, innovation, and style. The brand has earned acclaim for its meticulous craftsmanship, visionary designs, and unmistakable Italian influence. At the core of Gucci Eyewear's focus lies the goal of providing individuals with high-quality eyewear that allows them to express their unique personalities.

Taking inspiration from the iconic double G logo, Gucci Eyewear designs are characterized by their creativity, artistry, and meticulous attention to detail. Each frame is meticulously crafted using a combination of traditional techniques and modern technology to ensure not only visual appeal but also maximum comfort. The collection showcases signature Gucci elements such as the horse-bit detail and the green and red stripe, infusing a touch of glamour and sophistication.

The manufacturing process at Gucci Eyewear is marked by a strong emphasis on precision and superior quality. Collaborating with skilled artisans and leveraging advanced machinery, the brand ensures that every pair of glasses meets their exacting standards. Stringent quality control measures are implemented to guarantee that each piece of eyewear exemplifies excellence.

Gucci Eyewear is committed to environmental consciousness and sustainability. The brand actively embraces eco-friendly practices by utilizing sustainable materials and implementing responsible manufacturing processes. By incorporating sustainability into their production methods, Gucci Eyewear not only delivers exceptional eyewear but also contributes to a more environmentally conscious future.

The brand offers a diverse range of styles to cater to a variety of preferences. From classic aviators to timeless cat-eye frames and modern oversized shapes, Gucci Eyewear seamlessly blends traditional and contemporary elements. Each design withstands the test of time and makes a bold fashion statement, empowering wearers to confidently express their individuality.

Gucci's legacy as a luxury fashion brand traces back to its establishment in Florence in 1921. With a contemporary vision and a dedication to innovation, Gucci consistently redefines luxury for the modern era. Gucci Eyewear, renowned worldwide for its double G logo, epitomizes the harmonious fusion of luxury, innovation, and style. Through meticulous craftsmanship, visionary designs, and a steadfast commitment to sustainability, Gucci sunglasses and optical glasses continue to captivate fashion enthusiasts around the globe.

Prescription Lenses:

Our team are specialists at providing optical prescriptions. We offer a range of lens options to suit your vision, lifestyle and budget.
For more information on selecting your lenses please visit our information page here or you can contact us, our friendly team are always ready to help you find your perfect lens.


Your brand new Gucci glasses will come including all official accessories and will be covered by our 24 month global warranty.
Authorised Gucci Store.




More Gucci Glasses
Enhance your clarity
CRIZAL SAPPHIRE HR
Transparency that stands the test of life.
Absolute transparency
Reducing visible light reflections at 360° all around you for a vision relieved from light parasitics.
Durable resistance
Enduring scratch resistance against everyday handling such as wiping or dropping your eyeglasses.
Easiness-to-clean
Repelling water & dust, resisting to smudges for a lens that stays as clear as the first day you bought them¹
UV protection
Offering the most comprehensive daily protection against the invisible and often irreversible dangers of UV reflection.
Our latest innovation in anti-reflective coating
Every day, your eyes witness the frantic rhythm of your daily routine and make you discover what life is about. Daily aggressions can alter eyeglass wearers vision clarity and vision comfort.
Crizal® Sapphire™ HR, the best of Crizal coatings that provides transparency, durability and ease of care of the lenses.
How Crizal Sapphire HR withstands extreme testings
THE CRIZAL LIFEPROOF MULTI-TEST
Essilor has developed a thorough protocol to reinforce its testing methods, the Crizal Lifeproof multi-test. The performance of Crizal® Sapphire™ HR has been assessed under all conditions:
Anti-reflective efficiency: best-in-class transparency perceived by experts through a sensory analysis2.
Scratch resistance: superior scratch resistance vs previous generation after 12 months of wear in real-life3.
Easiness-to-clean: easy-to-clean after extensive smudging and 20,000 cleaning rubs4.
REDUCING REFLECTIONS
Whether we are at home, at work or shopping, we are exposed to multiple sources of light. Coming from all angles, light reaches your lenses and creates reflections. These reflections can be a source of discomfort and impact your everyday life by making us adopt new behaviours, consciously and subconsciously. We adjust our heads, changing our posture or even remove our spectacle lenses just reduce the visual impacts of reflections. Crizal Sapphire HR reduces reflections regardless of where the light comes from. By reducing the amount of reflections your vision will be purer with more vivid images and improved lens aesthetics when others look at you. Transparency has never been so visible.(4)
HIGHEST LEVEL OF UV PROTECTION FOR A CLEAR LENS
It has been found that UV can have a cumulative effect on your eyes contributing to premature eye ageing and is associated as a risk factor of cataracts.(5) Crizal Sapphire HR filters UV rays preventing them from passing through the front of your lens and preventing them from reflecting off of the back of your lens into your eye. Thanks to this unique UV protection enhancement Crizal Sapphire HR has an E-SPF rating of 35, the highest E-SPF index on clear lenses for optimal UV protection.(6)
ENHANCE YOUR LENSES IN EVERY WAY
Crizal Sapphire HR ensures your spectacle lenses are resistant and repellent from scratches, smudges, water droplets and dust particles. Meaning - your lenses are incredibly protected, clear and easy to clean. Which comes in handy when facing everyday activities.